Adhaar has doubtless become an important document not solely to determine your identity and avail the government's Social Security schemes however conjointly for monetary matters like filing tax returns and keeping your banking system active.
There are numerous advantages of linking your mobile number to your Aadhaar. You'll be able to e-verify your income tax return using Aadhaar. During this method an OTP is distributed to the mobile number connected to your Aadhaar. You'll be able to also update personal details connected to your Aadhaar on-line by using an OTP sent to your mobile. Downloading your e-Aadhaar also needs verification via OTP sent to your connected mobile number. There are alternative uses of linking your mobile number to Aadhaar.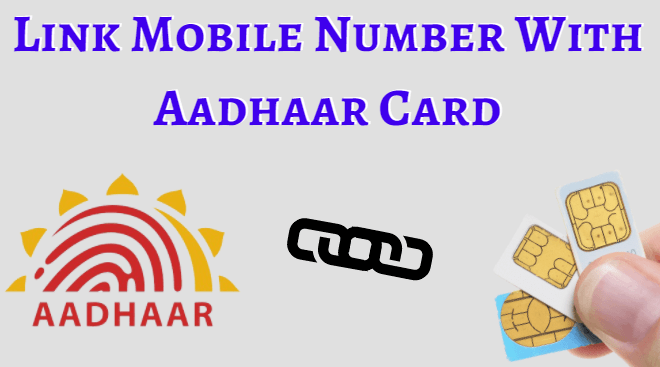 If you are looking to link your mobile number with Aadhaar, there is 2 scenarios:
You're linking it for the first time.
You have changed your mobile number and need to update your Aadhaar information by substitution the previous number with the new one.
Linking your mobile number to Aadhaar for the first time:
This has to be done offline. Most on-line transactions are OTP (one-time-password) authenticated i.e. the OTP is sent to the registered mobile number. Obviously, on-line authentication isn't possible as you're linking your number for the first time. To do this offline you need to follow these steps:
Visit your nearest Aadhaar centre to get the Aadhar Update/Correction form or download it from the UIDAI portal.
Fill out the form correctly; submit it to the concerned person at the centre and mention on the form that only mobile number is to be updated.
While submitting the update form, together with photocopy of your Aadhaar card you also need to provide photocopy of an Identity proof document like PAN Card, Passport, elector ID card.
Following the submission your biometrics are verified at the enrollment centre. Your thumb impression are going to be verified. Whereas applying for Aadhaar your biometrics were recorded and to certify the changes, they're verified.
After confirming the biometrics, you'll be given an acknowledgement slip. Typically it takes 2-5 operating days for the updation to happen however as per the UIDAI helpline the work time for the updation is ten days.
Updating your mobile number:
Updating the mobile number is done on-line, however make sure that your existing number linked to your Aadhaar, is useful and handy before you opt for the online update. This can be as a result of the OTP to certify the updation would be sent to your existing number. You'll be able link your new mobile variety with Aadhaar solely once submitting the OTP sent on your previous number.
On the UIDAI portal, there is an choice beneath the Aadhaar Update tab which will send the user to the Aadhar Self-Service portal. (Click here to visit to the portal directly)
Enter your Aadhar number, and also the Captcha text and request for OTP.
The verification code are sent to your existing mobile number, and once submitting it you will be redirected to a new page, where you'll be able to update the required details.
Under 'Select field(s) to update', choose 'Mobile Number'
Now enter your new mobile number that you simply need to record in the database and submit.
This guide can be helpful for you to link your mobile number to your Aadhaar Card.